A Nintendo Switch overheating issue solution: Zelda Treasure Chest with integrated Forced Air Cooling system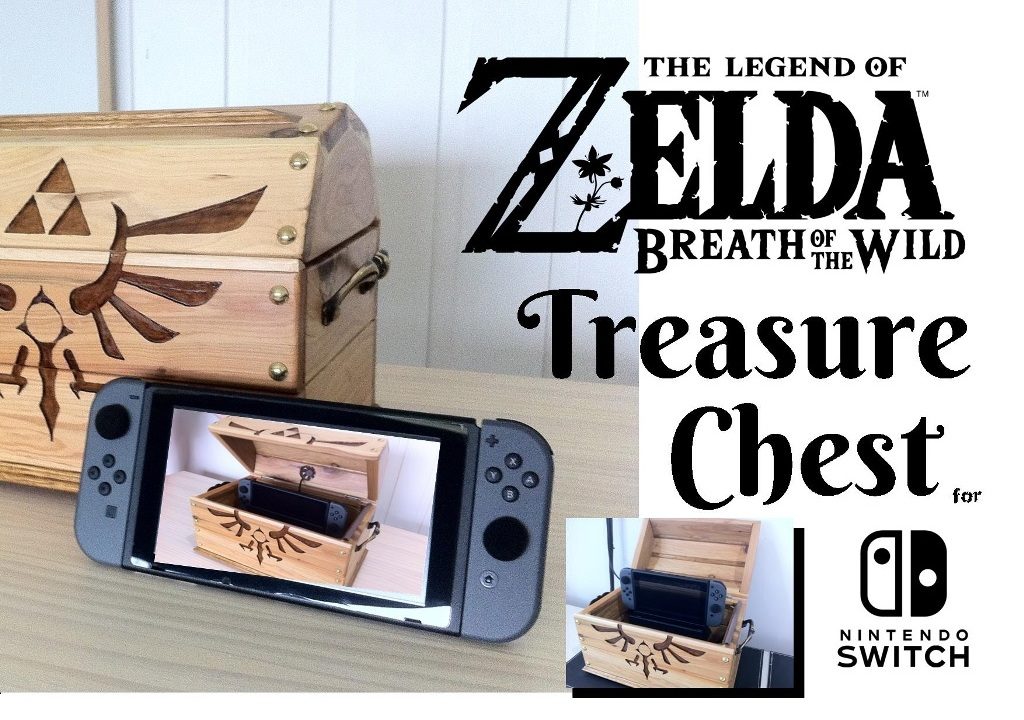 Transform your brand new Nintendo Switch into a fine Treasure Chest! Yes, a Zelda Breath of the Wild Treasure Chest! This Nintendo Switch project, completely hand-crafted and patiently oiled by Italian craftsman Fabio Zambelli, is not just a modded fan-made project, it's just a pleasure for your eyes. And it hides an Active cooling system inside, to keep your Nintendo Switch protected from overheating and dust (watch full video here)!
TECHNICAL SPECIFICATIONS:
Dimensions: 22cm x 33,5cm x 22,5cm (height)
Weight: 4 kg
Power consumption: 5 Volt DC
Cooling Fan: Noctua NF-A4x10
Air Intake: carbon fiber pipe
Peak Noise: 17,9 Decibel
The purpose of this prototype is to protect your Nintendo Switch under all conditions: Nintendo Switch is a wonderful machine indeed, but it's the way you use it to determine its life. As you wouldn't like to breath dust and have no home, so your Nintendo Switch should be treated the same! Enclosed into a nice looking Zelda Chest, while still being able to be removed from its docking station, this "little house" will keep your Switch protected and perfectly ventilated, in order to get the ultimate Nintendo Switch overheating issue solution.
Connectivity
This Nintendo Switch Treasure Chest features one external USB port in order for you to do the following:
-connect a Nintendo Pro Pad
-connect any USB Nintendo device that will be released in the future
-charge your phone, your Nintendo 3DS and virtually any device that works with 5 Volts DC voltage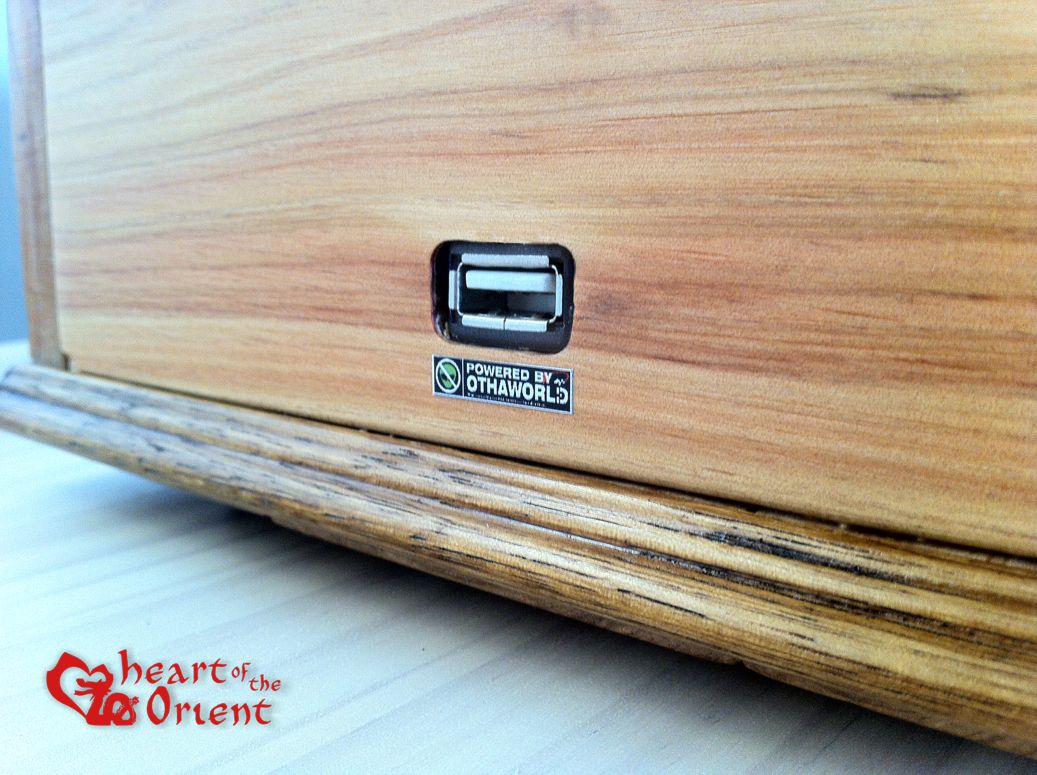 Compatibility
The Nintendo Switch Treasure Chest is compatible also with:
-Nintendo Classic Mini: Nintendo Entertainment System (NES)
-Nintendo Gamecube
-Nintendo DS Family
-Nintendo 3DS
Details of Air intake pipe
100% Italian Hand-crafted Product
I think quality is the combination between value and duration, although the glue used to bond these words can be high quality as well low quality. For this Zelda Treasure Chest for Nintendo Switch, you can be sure the glue I used is Quality made in Italy special glue! With another special ingredient: Kung fu. My job is mainly Kungfu teaching, but I like to extend this philosophy of life –effort, passion, precision- to all aspects of life. And to Nintendo Products too! So here's a Treasure Chest hand-crafted with all these values. A strong, good looking ,ever lasting and unique chest, just for the real Zelda Enthusiast.
Shifu Fabio Zambelli,
Master of the Academy
and founder of Heart of The Orient, Martial Arts Explained and Othaworld Creations

Recommended by GameScore.it: your landmark in Videogames

F.A.Q. Frequently Asked Questions
Q1: Does your chest create any interference between the Nintendo Switch console and the Joy-cons/Wi-fi?
A1: Not at all. Although the chest is hand-crafted using thick hardwood, metal screws and golden-plated caps, there's no interference of any kind. Tests have been run with chest cover fully closed.
Q2: What's the purpose of the Forced Air Cooling System? Can I just play with the cover open?
A2: The purpose of this chest is to keep your Nintendo Switch console efficient and dust-free. This Treasure Chest helps your console staying fit thanks to a proper air flow, regardless of the temperature of the room the chest is placed to work. It is well known that extensive use of Computer-like devices causes accumulation of dust into air intakes. We want to prevent this. We want to protect our Nintendo Switch console .We want to play longer 🙂
Q3: Price is too high, dude! Is it really that worthy?
A3: I strongly believe in making things last. I also believe that you can find cheaper chests on the internet, soon. But, as a maniac of ever-lasting things, I can guarantee that this chest will last forever. Passion and attention to details is put in each chest, and from passion only come great, lasting results.
Q4: Does your chest require additional power?
A4: No. Just plug the USB connection to your Nintendo Switch console, and you are ready to go.
Q5: How come I have to wait such a long time to receive my Chest?
A5: Purchasing a hand-crafted chest from me is not like placing an order on the internet, or dealing with a team of people whose job is selling. When you purchase your new Chest, you will deal with me. You will be followed in the process of hand-crafting by me. Your chest will be hand-made and delivered to you by me. This is the only way you can make sure you will receive a high quality, loved product. The extra price to pay is time, but slow-cooked meals are well known to be the best!
Q6: Isn't it a little bit too bulky..? I'd rather a smaller version!
A6: A smaller version would be definitely cuter -I agree- but in order for the Nintendo Switch to fit with both Joycon connected on its frame, I had to increase the width of the chest accordingly, otherwise it would have been an out of proportion chest. In the end why not designing something a little bigger..?: there's enough space for you to fit extra accessories such as game-cards and joycon-frame, as well as your Nintendo 3DS or your new Nintendo Classic Mini NES!
PLEASE NOTE: This is not an official Nintendo Product. Soundtrack bought under license.
THIS PRODUCT IS NOT FOR SALE AT THE MOMENT
A basic version of this Chest will be soon available for pre-purchase at 199 AUD, while maintaining same quality and style.
Zelda enthusiasts will be able to choose many ways of personalization  such as type of timber, logo, color, accessories (different prices apply).
If you want to be contacted when Chests will be ready for pre-orders, please send your expression of interest to Fabio