What is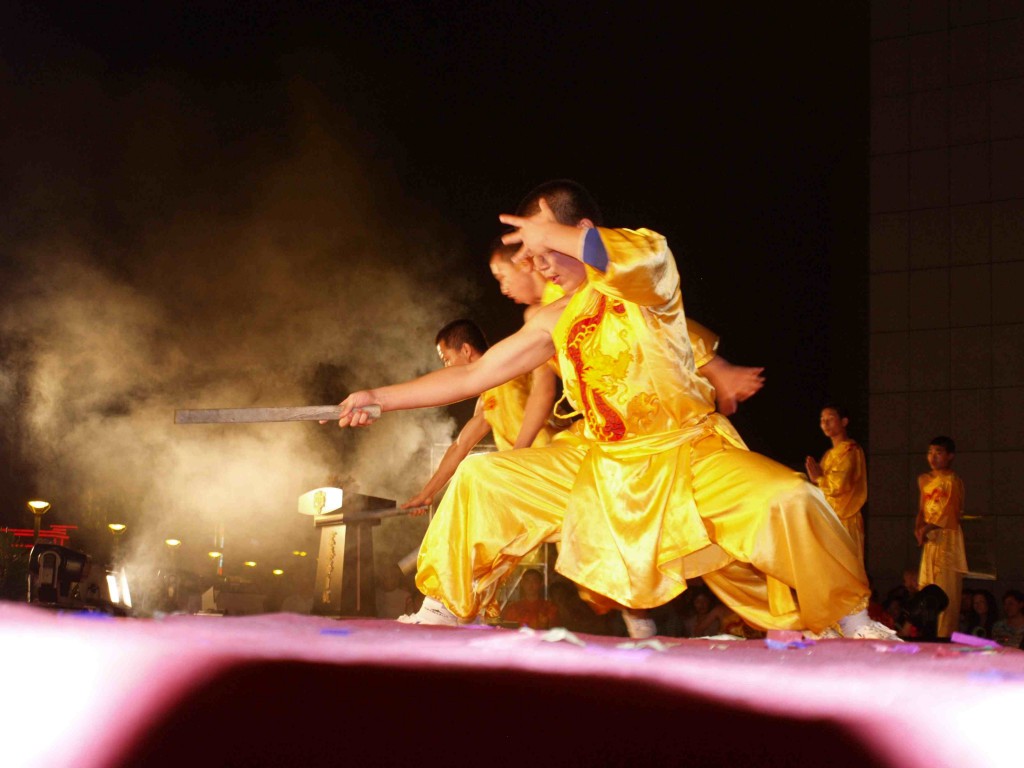 Hard Qigong? When Qigong benefits unite with improved strength over all the body, you take one more step towards the completion of Qigong power: this particular type of practice is well known in Martial Arts for directing Qi flow to a specific area of the body, in order for it to become insensitive to pain for few seconds. For example, when a something strikes the arm of the monk (or the head as seen in the above picture) the area of the head becomes stronger and insensitive to pain due to the ability to focus all of the energy (Qi) into one point.
Suitable For: martial artists
Major Improvements: resistance to pain and strength
Main Muscle Involved: the whole body
Previous Experience Required: daily practice in basic Qigong for at least one year
F.A.Q.
Can I use Hard Qigong techniques for my martial arts style?
Yes, Hard Qigong can be blended into the widest range of martial arts, regardless of their style.
I am a MMA fighter: I don't think Hard Qigong is of any use in fighting, so I can't see the point of learning it..
Hard Qigong helps fighters of any style to increase their pain threshold. It has never stated that a body is invulnerable to pain. During demonstrations, athletes performing Hard Qigong show how the mind can be redirected in a particular spot of the body, demonstrating that mind has endless power.
During a real fight, as seen also in a MMA/UFC contest, it's impossible to focus on the whole body in addition to focusing on fighting as only one spot is being hit. What Hard Qigong gives you instead is the ability to manage the pain in a better way.
METAL BAR 1 of 3

Young students preparing to demonstrate Hard Qigong: breaking a metal bar on the head

METAL BAR 2 of 3

Young students focusing their Qi in the impact area

METAL BAR 3 of 3

Young students breaking the bar

SPEAR TO THROAT

Bending a spear using the throat

SPEAR TO THROAT

Bending a spear using the throat

PUSHING A MAN

Pushing a man using an aluminium staff pointed at the throat

TILE BRAKING

A tile is being breaken on the chest

All styles above belong to the Shunlian Shenghuo Kungfu Academy program and brought to you in their genuineness.
..not sure what to choose..? Try our Style choice Advisor!
The Shunlian Shenghuo Kungfu Academy allows its Students to learn any style with no limitation. However, we strongly suggest to follow a gradual, 3+2 years program where you will start from the basics to the toughest Shaolin Kungfu styles. Furthermore, this is the only way the Academy recognizes your achievements.
OTHER TRADITIONAL QIGONG ROUTINES: